It's time to set aside the woodworking and start making garb for Pennsic! I've been trying to find the right thing to sew for some time now — my requirements are that it be cool, comfortable, historically accurate, and aesthetically pleasing to ME. I've had a few frustrating days, but I think I've finally found a simple style that will work for my Pennsic garb: The Flemish Gown. The gown is based on dresses worn by Flemish woman in the 15th century, so I'm in the right timeframe for my persona, albeit a wee bit off geographically. But I was never planning to stick to one culture or time period for my garb — I plan to branch out as that exploration interests me anyway. But still, I really like the way the Flemish Gown looks — here are some photos: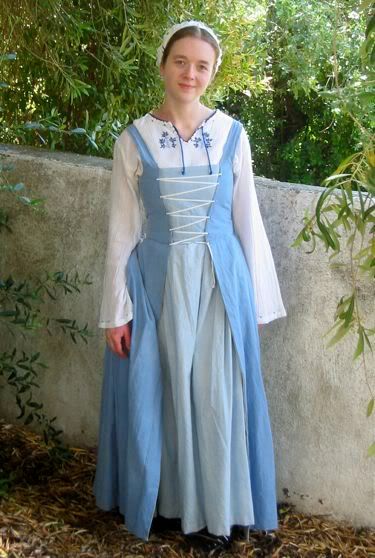 And here are some original sources that depict the dress:
Besides the fact that this dress is very appealing to me, it is also very versatile. The underdress (kirtle) and overdress (gown) are separate, so if I chose my colors well, I could pair them together in different ways to achieve different outfits. If I managed to make three kirtles and three overdresses, that would give me nine different-looking outfits! That would suit me well, I think.
And as you can see by the photos above, the skirt can be worn tucked up (kirtled) or pinned back, further changing it. Of course, I'm not yet sure how hard it will be to make, but this is the best idea I've had yet, so I think I should try it. Here are the best directions I've found on how to make it: http://www.elizabethancostume.net/lowerclass/makeflem.html
So for my future reference, here are a whole bunch of links to other blogs from seamstresses who have made this gown:
Heather's Pages (she made the kirtle reversible, which I think is a great idea!)
icklesevvy's Flemish Front (she made everything fully reversible)
I should probably first try to make the kirtle and underdress in an inexpensive muslin to avoid wasting any expensive linen. I shall report back as I work on this!